Seite 1 von 2

Überleben! Über das Leben ... in Freiheit
Zusammenschau aus Berichten von Freundinnen, Bekannten und eigenen Erfahrungen
Was bewirken Wörter?
Sie werden benutzt als Mittel der Kommunikation und der Desinformation
Sie hinterfragen ... "Russischer Angriffskrieg", das ist meine Definition betreffend des Geschehens in der Ukraine seit 2013, nach dem Maidan, der Revolution der Würde. Die Ukraine verteidigt sich, sie verteidigt sich gegen die Russische Förderation.
Die Liste der von der Russischen Förderation geführten Kriegshandlungen seit 1991: Georgien, Transnistrien,Tadschikistan, Abchasien, Tschetschenien, Dagestan, Südossetien ,Nordkaukasus, Zentralafrikanische Republik, Ukraine, Krim ... Dank der Freundschaft mit dem Dissidenten, Dichter, Radioproduzenten Igor Pomerantsev wurden mir die Augen früh geöffnet, dass mit Putin die Diktatur in der Russischen Föderation von neuem etabliert wurde.
Milena Findeis 10.7.2023
---
21.11.2023 10 years later: EuroMaidan activists who went on to fight Russian invasion

The EuroMaidan Revolution united millions of Ukrainians in protest against a corrupt, authoritarian, pro-Russian regime.
Few could have guessed that this was just the beginning of Ukraine's decade of struggle against mounting Russian subjugation attempts.
This Revolution of Dignity began after then-President Viktor Yanukovych abruptly refused to sign the long-awaited Association Agreement with the European Union in November 2013. People who had been expecting that signature came out to protest at Independence Square, or Maidan Nezalezhnosti, at the heart of Kyiv.
Many protesters were violently beaten by the Ukrainian riot police, Berkut. About 100 were gunned down, ever since eulogized as the Heavenly Hundred. The killings only fanned the flames of revolution until February 2014, when Yanukovych abandoned office and fled to Russia.
For the survivors, it would become the first battle out of many for the freedom of Ukraine, from the earliest Russian incursions in 2014 to the full-scale invasion of 2022.
Daria Shulzhenko, Kyiv Independent
---
7.11.23 Life on the frontline in Kherson: dodging shells, facing death and refusing to leave
Amid ceaseless bombardment, Kherson residents shop at the market, clean their homes, and document the horrors of war
by Tom Burgis in Kherson,The Guardian
On the Saturday, the Russians hit a school and a grain store.
On the Sunday, the ceaseless bombardment of Kherson from across the river struck a medical facility. An artillery round landed near a middle-aged man. The doctors did their best but the shrapnel had pierced his brain.
On the Monday, a bus, a library and a graveyard. On the Tuesday, a warehouse and two cars. The occupants of the car hit by a kamikaze drone were concussed. The other car caught fire when a shell smashed into it. After firefighters put out the flames, they found what remained of the owner inside.
On the Wednesday, a round landed just after breakfast in the middle of town, between a block of flats and a florist. Three council employees were walking along, the working day ahead of them. Shards from the blast wounded two. The third died on the kerbside. A blue plastic sheet was laid over her body. All around, glass from blown-out windows crunched underfoot.
---
6.11.2023 Bratislava announced the end of military aid to Ukraine on Oct. 26 following the election of the new Slovakian prime minister, Robert Fico. Fico based his campaign on strong anti-U.S. sentiments, promises to halt weapons shipments to Ukraine, and a commitment to block Kyiv's NATO aspirations.
While Slovakia was not among the biggest donors of military aid to Ukraine, it did donate 13 MiG-29 warplanes and an S-300 air defense system, long before the U.S. opted to allow Ukraine to receive F-16s. After giving the warplanes to Ukraine, then-Slovakian Prime Minister Eduard Heger affirmed that the country was "on the right side of history."
Now, Slovakia has chosen to align itself with the other side of history, which represents a breakthrough in Russia's disinformation strategy and the placement of Russia's second Trojan horse in Europe, alongside Hungary.
Leading up to the parliamentary election, Slovak President Zuzana Caputova warned in June that the country was likely to follow in Hungary's footsteps in becoming an "EU problem child," citing Russian disinformation as a leading factor in bringing a "Viktor Orban-type of foreign policy" to Slovakia.
Caputova's predictions came true, highlighting a big win for Russia's disinformation efforts and providing validation to Russian President Vladimir Putin's war strategy.
David Kirichenko
17.10.2023 Meduzua: 'I've lost everything' Hroza residents mourn the 59 civilians killed in Russia's missile strike on a soldier's wake, in photos Emiliano Urbano.
---
11.10.2023 This year's BookForum included 150 events across five locations in central Lviv from Oct. 4-8, and the festival organizers informed Suspilne Kultura that more than 20,000 people are estimated to have attended despite the ongoing threat of Russian missile and drone strikes. Kate Tsukan, The Kyiv Independent
---
5.10.2023 by Dinara Khalilova and The Kyiv Independent news desk "
Russian attack on Kharkiv Oblast village kills 51, including 6-year-old child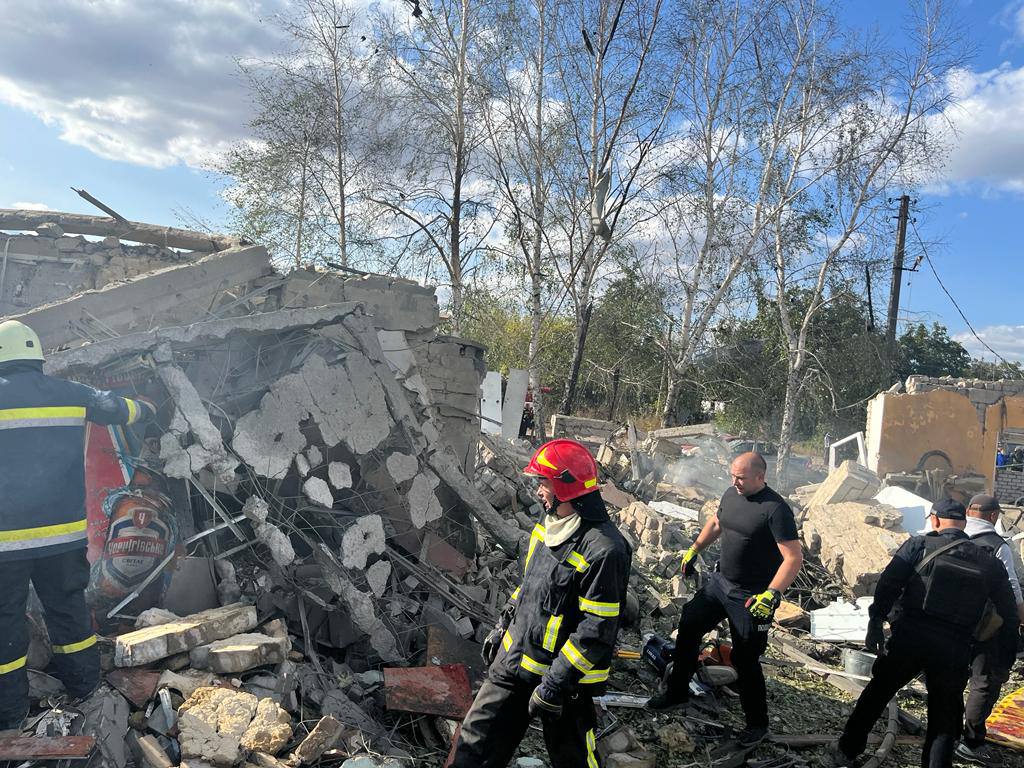 The aftermath of Russia's attack against the village of Hroza, Kharkiv Oblast, on Oct. 5, 2023. (Oleh Syniehubov)
Russian troops struck a cafe in Kharkiv Oblast's village of Hroza, killing at least 51 people, Governor Oleh Syniehubov reported on Oct. 5. The victims included a six-year-old boy.
Six people have been injured, including another child, Syniehubov said on Telegram, adding that all the victims were local civilians.
The attack occurred at around 1 p.m. local time, and the rescue operation lasted seven hours.
The oblast governor called the attack "the bloodiest crime committed by the Russians in Kharkiv Oblast since the start of the full-scale invasion." Syniehubov announced a three-day mourning period in the region on Oct. 6-8.
At the time of the attack, at least 60 people gathered in the local cafe for a memorial service for a deceased resident, Interior Minister Ihor Klymenko reported on national television, cited by Suspilne. The attack was likely carried out with an Iskander missile, Klymenko added.
Hroza is a small village in northeastern Ukraine that lies around 30 kilometers west of Kupiansk. The interior minister said that the population of Hroza was about 330 people, but a spokesman of the Kharkiv Oblast Prosecutor's Office later clarified that the real number of people living in the village just before the attack didn't exceed 100."The Russian army killed most residents of this village with one rocket," Dmytro Chubenko said on national TV, as cited by Hromadske Radio.Russia has been concentrating its forces around Kupiansk in Kharkiv Oblast since mid-July, trying to regain the positions lost during the Ukrainian surprise counteroffensive last autumn. The city was occupied by Russian forces from Feb. 27 to Sept. 10, 2022.
---
4.10.2023 Kate Tsurkan, Svitlana Oslavska and Anna Ilchenko embarked on a mission in 2020 to document Ukraine's villages before they were lost to time and war.
Traversing across Ukraine's vast landscape, the sisters started speaking to people from villages about topics as diverse as the best construction method of a house to their contemplations on life and death.
They select brief yet emotionally charged excerpts from their recorded conversations with locals to share on Facebook and Instagram under the title Old khata project. The word "khata" roughly means "cottage" in English, an apt description of the unique old architectural style of homes found in Ukrainian villages.

Ukraine's rural population is shrinking yearly, with many people moving to larger cities or abroad for better prospects. Documenting these villages and the people who still call them home has been a way of preserving an important – yet slowly vanishing – part of Ukraine's cultural legacy.
With Russia's all-out war against Ukraine impacting many villages, the Old khata project also became a testimony to the Ukrainian people's resilience.
The journalist-photographer duo has visited nearly 100 villages across Ukraine over the past three years, including villages in Luhansk Oblast that have since fallen under Russian occupation and now-destroyed villages in Kherson Oblast.
Kyiv Independent
---
Der russische Angriffskrieg auf die ganze Ukraine hat Europa in die schwerste Krise seit 1945 gestürzt. Wie konnte es zu dieser Katastrophe kommen? Warum hat – insbesondere Deutschland – sich fast nur für Moskau interessiert und Vilnius, Tallinn, Riga, Warschau oder natürlich Kiew entweder kaum beachtet oder bewusst ignoriert. Gegen den Rat fast aller osteuropäischen Staaten haben wir eine verheerende Politik betrieben, die diesen Krieg begünstigte und die schwerste Wirtschaftskrise seit Jahrzehnten verursachte.
Der russische Angriffskrieg auf die ganze Ukraine hat Europa in die schwerste Krise seit 1945 gestürzt. Wie konnte es zu dieser Katastrophe kommen? Warum hat – insbesondere Deutschland – sich fast nur für Moskau interessiert und Vilnius, Tallinn, Riga, Warschau oder natürlich Kiew entweder kaum beachtet oder bewusst ignoriert. Gegen den Rat fast aller osteuropäischen Staaten haben wir eine verheerende Politik betrieben, die diesen Krieg begünstigte und die schwerste Wirtschaftskrise seit Jahrzehnten verursachte.
Über Ursachen, die Vergangenheit, die Gegenwart und was dringend besser gemacht werden muss, sprechen alle 14 Tage:
Dr. Gustav Gressel war Soldat, jetzt ist er Experte für Osteuropa, Militärstrategien und Sicherheitspolitik beim European Council on Foreign Relations. Er hat sich sich beim Österreichischen Bundesheer mit Russland beschäftigt, kennt sich besonders gut mit dem russischen Militär aus. Seit 2009 bearbeitet Gressel auch die Ukraine.
Gabriele Woidelko ist Osteuropa-Historikerin und Slawistin und leitet bei der Körber-Stiftung in Hamburg den Bereich "Geschichte und Politik", dessen Projekte sich mit Geschichtsvermittlung, Erinnerungskultur und den historischen Wurzeln aktueller Konflikte beschäftigen.
Prof. Jan Claas Behrends ist ebenfalls Osteuropa-Historiker, arbeitet an der Viadrina in Frankfurt an der Oder. Behrends ist Sozialdemokrat und eine von drei dissidenten Stimmen im Geschichtsforum seiner Partei, die eine Erklärung des Gremiums nach Ausbruch des Krieges kritisierten. Das Trio schrieb, dass manche Parteifreunde "die Trümmer ihrer Ostpolitik" mehr bekümmerten als die "Bomben in der Ukraine".
Dr. Franziska Davies. Auch sie ist Osteuropa-Historikerin, forscht an der LMU in München, beschäftigt sich insbesondere mit der Geschichte Russlands, der Ukraine und Polens im 19. und 20. Jahrhundert. Dieses Jahr ist das Buch "Offene Wunden Osteuropas – Reise zu den Erinnerungsorten des Zweiten Weltkriegs" erscheinen, das sie gemeinsam mit Katja Makhotina geschrieben hat.
---
10.9.2023 Andriy Lyubka and Oleksandr Mykhed speaking during the Meridian Czernowitz Literary Festival to a packed audience—during war, celebrating Ukrainian culture takes on even greater importance. Kate Tsurkan
---
7.9.2023 ... Victory will be difficult, but it is the relevant concept. I don't know any Ukrainians at this point who have not lost a friend or a family member in this war. My friends now tend to have a certain dark circle around the eyes and a tendency to look into the middle distance. And yet the level of determination is very, very high. In the few days I have been here there have been missile attacks in or near both cities where I spent the night, a murderous Russian strike on a market, and a Russian attempt to cut off Ukrainian grain exports with missiles and drones. This is daily life — but it is Ukrainian daily life, not ours. The Ukrainians are doing all of the fighting; we are doing part of the funding. What Ukrainian resistance protects, though, extends far beyond Ukraine.
The Ukrainians are defending the legal order established after the Second World War. They have performed the entire NATO mission of absorbing and reversing an attack by Russia with a tiny percentage of NATO military budgets and zero losses from NATO members. Ukrainians are making a war in the Pacific much less likely by demonstrating to China that offensive operations are harder than they seem. They have made nuclear war less likely by demonstrating that nuclear blackmail need not work. Ukraine is also fighting to restore its grain exports to Africa and Asia, where millions of people have been put at risk by Russia's attack on the Ukrainian economy. Last but not least, Ukrainians are demonstrating that a democracy can defend itself.
Ukrainians are delivering to us kinds of security that we could not attain on our own. I fear that we are taking these security gains for granted. (In my more cynical moments, I fear that some of us, perhaps even some presidential candidates, resent the Ukrainians precisely for helping us so much.)
This war will not end because of one sudden event, but nor will it go on indefinitely. When and how it ends depends largely on us, on what we do, on how much we help. Even if we did not care at all about Ukrainians (and we should), getting this war to end with a Ukrainian victory would be by far the best thing Americans could do for themselves. Indeed, I do not think that, in the history of US foreign relations, there has ever been a chance to secure so much for Americans with so little effort by Americans. I do hope we take that chance.
---
4.9.2023 ... But life endures.
Bohdan, along with his comrades, artists, filmmakers, playwrights, and ordinary people—someone's children, parents, grandparents—are fighting against this regime, giving their bodies (in the most literal sense) to the cause. From head to toe. Who remembers their names or even their call signs?
I constantly think about what political art is today. And to me, it seems toothless. Because no artwork, even the most visceral, can compare to what these people are experiencing and what they are sacrificing so that others can create art.
Without exaggeration, these pillars support not only my life but the lives of millions—mine and yours.
We ask Bohdan if his leg hurts and if he can feel it. They give him painkillers, and he can move his legs–he feels everything. After the second week, he can't resist and starts trying to walk—he wants to smoke on the balcony more than anything so as not to feel chained to his bed. His library is expanding, and he carries books to neighboring rooms.
I walk through the city as if all my strength has left my body as if my body has already died after returning, and I've come back to life to finish my tasks.
Nine years feel like nine lifetimes.
But how many more of those lifetimes do I have left? Every day is a deduction. When you return to Kyiv, you come to terms with the fact that you might not make it tomorrow.
I order chicken soup as if I have a cold.
What ails me? It's the country that aches, its territory. It has been aching for nine years now.
***
Kateryna Iakovlenko is the editor-in-chief of Suspilne Kultura.
Translated from the Ukrainian by Kate Tsurkan, Apofenie
---
Russia-Ukraine war at a glance: what we know on day 541 of the invasion
18.8.2023 Nato chief says only Ukraine can decide conditions for peace; US approves sending F-16 fighter jets to Kyiv
Guardian staff and agencies
The head of Nato has said only Kyiv can decide conditions for peace talks with Russia following a territory row. Jens Stoltenberg's comments came after his chief of staff suggested Ukraine could give up land as a condition of Nato membership. Stoltenberg said: "It is the Ukrainians, and only the Ukrainians, who can decide when there are conditions in place for negotiations, and who can decide at the negotiating table what is an acceptable solution."
---
Prigozhin Is Dead. The Culture He Represented Lives On
29.8. TIMES Peter Pomerantsev For a moment it seemed that an actual gangster could take on a gangster state. Yevgeny Prigozhin, a Russian criminal who had served time and spoke in prison slang, thought he could compete with the suit and tie lawyers of Russia's criminal regime. Just two months ago he was leading his army of mercenaries in a march on Moscow, challenging the authority of the army leadership, claiming he could wage Russia's imperial, genocidal war against Ukraine better than they could, implicitly questioning Putin's power. Now, Prigozhin and his lieutenants have been assassinated, their plane crashed outside of Moscow. The assumption is this is Putin's revenge. But Prigozhin, or rather what he represents, have a larger victory that will outlive the man.

Prigozhin had been such a role model for your average Russian crim: he'd started in a Soviet prison cell for robbery and risen to a lifestyle of gold-plated riches and Kremlin access. Though he has been killed, the prison and gangster culture that Prigozhin is an expression of has consumed the state. A Soviet joke used to describe the gulag system of labour camps as the 'little prison' (Malaya Zona) and the Soviet Union as the 'big prison' (Bolshaya Zona)—now the small prison has swallowed the larger one.

---
Being a poet and a woman on the frontline - with Yaryna Chornohuz
4.8.2023 Yaryna Chornohuz is a Ukrainian poet who became a soldier to defend her homeland. She is a paramedic and a reconnaissance scout who went to the frontline before Russia's full-scale invasion. Before her military experience, she was an activist organizing protests in support of the Ukrainian language and culture, and against capitulation to Russia. While on the frontline, she wrote two books of poetry, which had substantial resonance in Ukraine. Her profound poetry touches upon the topics of life and death, connection with those who are no longer alive, connection to the land, and Ukraine's war experience today.
Host: Volodymyr Yermolenko, a Ukrainian philosopher and journalist, and chief editor of UkraineWorld.org.
Thinking in Dark Times is a podcast series by UkraineWorld. This series seeks to make Ukraine and the current Russian war against Ukraine a focal point of our joint reflection on the world's present, past, and future. We try to see the light through and despite the current darkness.
UkraineWorld (ukraineworld.org) is brought to you by Internews Ukraine, one of the largest Ukrainian media NGOs.
---
27.7.2023
Hi Milena, terrorists attacked port again. Employees were killed by moscow monsters. They keep destroying harvest storage, cargo facilities and killing people. There were 3 attacks during the day on Wednesday. 3 hours of terror in the evening of yesterday they launched at Ukraine 40 missiles.
---
— The Kyiv Independent (@KyivIndependent) July 23, 2023⚡️Russian missile attack destroys Odesa's Transfiguration Cathedral.

Russian missile attacks on the night of July 23 caused significant damage to Odesa's historic Transfiguration Cathedral, the city administration reported via Telegram.
---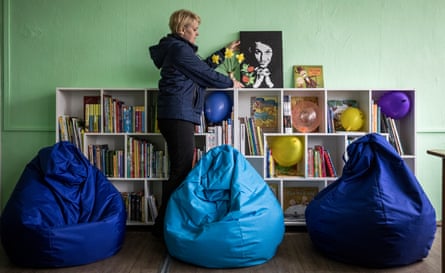 22.7.2023
A murdered writer, his secret diary of the invasion of Ukraine – and the war crimes investigator determined to find it
©Charlotte Higgins, The Guardian

Vakulenko's friend Yulia Kalulia-Danyliuk with his portrait in the local children's library. Photograph: Ed Ram/The Guardian
It was only in December that Kalulia-Danyliuk was able to return to this, her workplace, after the area had been cleared of mines. She shows me a video she took on her phone of what greeted her when she stepped inside. Library books had been used to block up the windows – thankfully, she says, as that saved them from destruction. Soldiers had lit campfires inside the building. Vodka bottles and empty ration packs were strewn across the floor. The TV had gone. Pages of books on Ukrainian culture had been used as toilet paper and the lavatory itself was blocked up with socks and other clothing. Children's dressing-up costumes had been defecated on. A mirror had been scrawled with the letter Z. "I didn't want to clean it," she says of the looking glass, "in case I lost the hatred." She was heartbroken by the chaos, the filth and the destruction: "I had invested my soul, my time, my own money in this place," she says. "You know, when I left work for the last time before the invasion, I lined a bin with a fresh rubbish bag. When I came back after the liberation, it was still there, unused."
Things are different now. The main room of the library smells of fresh paint, in pistachio green, the shelves are stocked with new children's books and there's a portrait of Vakulenko above them. There are bright blue beanbags on the floor and light floods in through brand new windows. The date Vakulenko is thought to have bured his diary, 23 March, has been named his memory-day in the village. This year it was marked by an event here in the library, with drawings and stories and games for the village children. "I wanted it like this," Amelina, who co-organised the day, tells me this spring. "I wanted to commemorate him not by some pathetic speeches and crying, but by making sure the children in his village have some connections to books and writers again."
As I leave Kapytolivka, past the budding apricot trees that line the lanes, I look up and see a sedge of cranes flying overhead. I want to believe they are the same birds that Vakulenko saw a year ago: the birds that brought him hope.
---
Durch den Raketenangriff in Odessa wurden Museen beschädigt (Foto: @Олександра Ковалчук) Quelle: NV
In der Nacht zum Donnerstag, 20. Juli, führten die russischen Besatzer einen weiteren massiven Raketenangriff auf den Süden der Ukraine durch, Odessa und Mykolajiw standen erneut unter Beschuss. Das Zentrum von Odessa ist ein gefährdetes UNESCO-Weltkulturerbe.
Durch einen Raketenangriff am 20. Juli wurden zwei Museen in Odessa beschädigt: das Literaturmuseum Odessa, das Archäologische Museum Odessa und das Museum für westliche und östliche Kunst. Im ersten Fall wurde das Gebäude beschädigt, im zweiten Fenster und Türen.
Max Odessa: The museum of Literature in Odesa is less than one block away from UNESCO sign was attacked by kremlin army. Beautiful architecture in the downtown of Odesa and human lives under mortal danger. It is near Odesa Town hall and archeology museum.
---
Far From the Front, They Stand in Honor of Ukraine
17.7.2023 , New York Times The city of Chernivtsi in western Ukraine has been spared the mayhem of the Russian invasion. But like other towns in the region, it is doing its part, and has become, in effect, a back office of the war effort.
Every morning at the stroke of nine, in the western Ukrainian city of Chernivtsi, the entire town square comes to a standstill for a moment of silence to mourn the war dead.
---
DER PREIS, DEN SIE ZAHLEN
Von Moritz Gathmann; STERN, 10.7.2023
Sie sind erschöpft und geschunden, und täglich müssen sie Kameraden begraben: unterwegs mit ukrainischen Soldaten, die für die Freiheit ihres Landes kämpfen
Gesichter voller Trauer, Wut und Schmerz. Angehörige und Kameraden bei der Beisetzung zweier Soldaten in der Nähe von Saporischschja / Fotos: Jędrzej Nowicki
---
6.7.2023
---
Sirens
Air-raid sirens across the country
It feels like everyone is brought out
For execution
But only one person gets targeted
Usually the one at the edge
This time not you; all clear
By Victoria Amelina (1.1.1986 - 1.7.2023)
Translated from the Ukrainian by Anatoly Kudryavitsky
The award-winning Ukrainian writer Victoria Amelina has died from her injuries after a Russian missile hit a pizza restaurant in the eastern city of Kramatorsk on Tuesday.
---
Seit über einem Jahr, das sich wie drei Ewigkeiten anfühlt, führt Russland einen brutalen Angriffskrieg gegen mein Land. In dieser Welt wüten auch andere Kriege, die genauso schmerzen und stumm machen, so wie jeder Krieg aus der Vergangenheit dies getan hat. Wie mir scheint, ist es ein ewiger Krieg, der schmerzt und stumm macht und nicht aufhört, egal wie sehr wir es uns wünschen. Und das Hauptinstrument aller Schriftstellerinnen und Schriftsteller, die Sprache, die schönste Gedichte hervorbringt, kann auch dazu dienen, Befehle kundzutun, zum Abschuss von Raketen, die Zivilisten töten, oder zum Vorrücken von Panzern. Die Sprache ist daher nie unschuldig, man muss, wie es ein mir bekannter Schriftstellerkollege aus dem Kongo neulich formulierte, selbst sauber sein, wenn man mit einer schmutzigen Sprache arbeiten möchte. Das bin ich nicht, meine Damen und Herren, ich bin nicht sauber, denn ich habe Angst bekommen vor der Sprache, die Millionen von mehrheitlich friedlichen Bürgern überzeugen kann, im Recht zu sein, andere zu ermorden."
---
The Nova Kakhovka Dam in Ukraine
Ten guidelines for writing about catastrophe
The Nova Kakhovka Dam in Ukraine, controlled by Russia, has been destroyed. One consequence is a humanitarian disaster that, had it not taken place within a war zone, would already have drawn enormous international assistance. Thousands of houses are flooded and tens of thousands of people are in flight or waiting for rescue. Another consequence is ecological mayhem, among other things the loss of wetland and other habitats. A third is the destruction of Ukrainian farmland and other elements of the Ukrainian economy. So much is happening at once that the story is hard to follow. Here are a few thoughts about writing responsibly about the event.
1. Avoid the temptation to begin the story of this manmade humanitarian and ecological catastrophe by bothsidesing it. That's not journalism.
2. Russian spokespersons claiming that Ukraine did something (in this case, blow a dam) is not part of a story of an actual event in the real world. It is part of different story: one about all the outrageous claims Russia has made about Ukraine since the first invasion, in 2014. If Russian claims about Ukrainian actions are to be mentioned, it has to be in that context.
3. Citing Russian claims next to Ukrainian claims is unfair to the Ukrainians. In this war, what Russian spokespersons have said has almost always been untrue, whereas what Ukrainian spokespersons have said has largely been reliable. The juxtaposition suggests an equality that makes it impossible for the reader to understand that important difference.
4. If a Russian spokesman (e.g. Dmitri Peskov) must be cited, it must be mentioned that this specific figure has lied about every aspect of this war since it began. This is context. Readers picking up the story in the middle need to know such background.
5. If Russian propaganda for external consumption is cited, it can help to also cite Russian propaganda for internal consumption. It is interesting that Russian propagandists have been long arguing that Ukrainian dams should be blown, and that a Russian parliamentarian takes for granted that Russia blew the dam and rejoices in the death and destruction that followed.
6. When a story begins with bothsidesing, readers are being implicitly instructed that an object in the physical world (like a dam) is really just an element of narrative. They are being guided into the wrong genre (literature) right at the moment when analysis is needed. This does their minds a disservice.
Part of the city of Kherson is now under water
7. Dams are physical objects. Whether or how they can be destroyed is a subject for people who know what they are talking about. Although this valuable NYT story exhibits the above flaws, it has the great merit of treating dams as physical rather than narrative objects. When this exercise is performed, it seems clear that the dam could only have been destroyed by an explosion from the inside.
8. Russia was in control of the relevant part of the dam when it exploded. This is an elemental part of the context. It comes before what anyone says. When a murder is investigated, detectives think about means. Russia had the means. Ukraine did not.
9. The story doesn't start at the moment the dam explodes. Readers need to know that for the last fifteen months Russia has been killing Ukrainian civilians and destroying Ukrainian civilian infrastructure, whereas Ukraine has been trying to protect its people and the structures that keep them alive.
10. The setting also includes history. Military history offers an elemental point. Armies that are attacking do not blow dams to block their own path of advance. Armies that are retreating do blow dams to slow the advance of the other side. At the relevant moment, Ukraine was advancing, and Russia was retreating.
The pursuit of objectivity does not mean treating every event as a coin flip, a fifty-fifty chance between two different public statements. Objectivity demands thinking about all the objects -- physical objects, physical placement of people -- that must be in the story, as well as all of the settings -- contemporary and historical -- that a reader would need in order to come away from the story with greater understanding.
---
9.3.2023 Der neu angelobte tschechische Präsident Petr Pavel wies in seiner Antrittsrede darauf hin, wie wichtig die Unterstützung der von Russland angegriffenen Ukraine für das Fortbestehen der Demokratie - in Tschechien und Europa - ist. Russlands Armee hat in der Nacht auf Donnerstag die Ukraine erneut großflächig mit Raketen angegriffen. Dabei kamen mehrere Menschen ums Leben. Das Atomkraftwerk Saporischschja musste infolge des Beschusses vorübergehend von der regulären Stromversorgung genommen und mit Dieselgeneratoren notversorgt werden. Die Lemberger Stadtverwaltung meldete mehrere Raketeneinschläge. Dabei wurden Menschen getötet und verletzt. Es waren die ersten Todesopfer in der 720.000-Einwohner-Stadt in der Westukraine, die 70 Kilometer entfernt von der Grenze nach Polen liegt .
5.3.2023 A year after the full-scale Russian invasion of Ukraine, the Debating Europe series brought together five leading experts to examine to what degree the Russo-Ukrainian War is shifting the geo-political landscape. Although Eastern Ukraine amounts to a small patch of the world's landmass, the war on this territory has had consequences reaching into every corner of the world. Most commentators agree that this conflict will last many more months if not years.
In this debate, our eminent guests discussed whether there is a military or political end in sight to the conflict; whether it is yet possible to define the contours of an end to the war; whether an escalation remains a possibility; and in what respect this war is reordering geo-politics now and in the future. Michael Clarke, Fellow at King's College London. Mischa Gabowitsch, historian and sociologist, Visiting Fellow at the IWM (Institute for Human Sciences), and Researcher at RECET, University of Vienna.
Ursula Plassnik, former Austrian Foreign Minister. Nathalie Tocci, Director of the Institute of International Affairs - Istituto Affari Internazionali (IAI) in Rome and Europe's Futures Fellow at the IWM.
Olga Tokariuk, Fellow at the Centre for European Policy Analysis.
Moderated by Misha Glenny, IWM Rector.
This long-standing event is a collaborative production of the Institute for Human Sciences (IWM), Burgtheater, ERSTE Foundation, and Austrian daily Der Standard.
6.2.2023 Even by the standards of eastern Ukraine, Bakhmut is a hellscape of destruction. Electricity has been out since August and water since October. Rows of uniform Soviet-style buildings now resemble a series of ragged molars, mottledby shells and blackened with soot. David Patrikarakos
20.1.2023 "Ich glaube, es ist keine Zeit zu verhandeln. Es ist Zeit zu überleben", Wolodymyr Selenskyj, Präsident der Ukraine, im Interview mit Vassili Golod, ARD
---
14.1.2023 Die Jahreszahl hat gewechselt. In Tschechien wird ein neuer Präsident gewählt. "Oral History", eine Methode der Geschichtswissenschaft, die auf Gespräche, Niederschriften von Zeitzeugen basiert, beschäftigt mich. Erinnerungen von Zeitzeugen aus dem Wirren des Zweiten Weltkriegs, die zurückblicken begegnen mir in den Niederschriften von Valentin Hauser, "Vergessene Wahrheiten", die NS- und Kriegszeit in Kärnten, die Vertreibung der Kärntner Slowenen, die Saualm-Partisanen. Eine von Alena Wagnerová herausgegebene Sammlung von Berichten, erschienen unter dem Titel "Helden der Hoffnung", die anderen Deutschen aus den Sudeten, 1935 - 1989. Der Fotoband von Marc Schroeder ORDER 7161 erzählt von Rumäniendeutschen, die auf Stalins Befehl vom 16. Dezember 1944 als Reparationsleistung für den Zweiten Weltkrieg zur Zwangsarbeit in die Sowjetunion deportiert wurden. Aus der mittelbaren Gegenwart die Erzählungen, Berichte aus der Ukraine. "Tagebuch einer Invasion" Der ukrainische Schriftsteller Andrej Kurkow beschreibt im "Tagebuch einer Invasion" die sich seit 2014 aufbauende Aggression, die mit der Besetzung der Ostukraine und der Annexion der Krim begann. Er schreibt über historische Kontinuitäten, die den Weg zur Eskalation begreifbarer machen. Kurkow schreibt über die individuelle Erfahrung mit dem Überfall, der Angst vor dem scheinbar übermächtigen Nachbarn und dem Widerstandswillen eines ganzen Volkes.
Ukraine chronicles winter, 2022 Greek Church, Video produced by Max
29.12.2022 Morning message from Max Odessa:Russians bombers up in at the air with super sonic missiles for 4 hours. No power. Air alert sound is off because of no power.13 bombers, 2 ships missile carriers and atomic submarine are on. They could carry up to 124 missiles. We just heard three explosions and two more.
26.12.2022 What Is the Secret of Chernivtsi? A Conversation with Ihor Pomerantsev LARB By Kate Tsurka: At first, the idea of having a literary festival during wartime certainly does sound a bit odd. That's why we renamed it this year to "Meridian Czernowitz Poetry Readings." The context of war casts a shadow over everything we do now — let me give you an example. I attended one of the events where the Austrian poet Milena Findeis was accompanied in Ukrainian translation by our famous local German scholar Petro Rykhlo. In the middle of the event, Milena broke down and started crying. Rykhlo is usually quite the stoic, but I noticed that his lips were trembling, and soon the entire audience was in tears. Then everyone overcame their emotions, and the event continued. Afterward, a Ukrainian woman came up to her and said, "Thank you for your tears." I have contradictory feelings about this statement! Findeis read some really great poems. But in the context of war, tears mean more than poems; human touch is more necessary than brilliant metaphors. This is difficult for me to admit because it almost feels like the defeat of poetry, in a sense. I suppose it was the emblem of this year's Meridian Czernowitz. Emotions overwhelmed all of us, and literature took a step back. It was three days of collective catharsis. Igor Pomerantsev
24.12.2022 Erhalte von Petro Rychlo aus Czernowitz diese Zeilen:
Gestern war die längste Nacht des Jahres.
Morgen nimmt schon wieder zu das Licht.
Noch ist es ein winziges, ein schmales,
Doch erhellt es menschliches Gesicht
Mit der Hoffnung, dass ersehnter Frieden
Wieder kommt in unser liebes Haus
Wo wir alle, ähnlich und verschieden
Froh und traurig gehen ein und aus.
16.12.2022 Діана Клочко · ...над Києвом канонада, ППО відбиває масову атаку, і от думаю, як завтра розповідати про отвори в скульптурах Генрі Мура. Хоча у назві лекції про Архипенка і Мура є словосполучення "лінія краси"...
11.12.2022 "Every photo has it's value, because it holds the time" Maxym Kozmenko, photographer Ukraine 11.12.2022,""The biggest lost is the lost of time", said Ukrainian philosopher Hryhoriy Skoworoda. And he was right. Blog
3.12.2022 Message from Max: Without power no sound signal in the street about coming russian rockets and iranian drones to go to the basement. We have electricity for 2-3 hours per day. Problem is cell phone towers are off too without power. You can not call family, doctor or friend. No internet. No way to learn about air alert. No news. Nothing.
Odesa without electricity.
Eine umfassende Retrospektive des ukrainischen Fotografen Boris Mikhailov ist noch bis 15. Januar im Pariser Maison Européenne de la Photographie (MEP) zu sehen: Journal ukrainien – Ukrainian Diary umfasst 800 Fotografien. Mikhailov, der aus dem ostukrainischen Charkiw stammt, widmet diese Ausstellung der Ukraine und allen, "die unter dem heimtückischen und unerklärlichen Angriff auf unser Land leiden". BORIS MIKHAILOV – FOTO-CHRONIST DER UKRAINE, Dekoder
26.11.2022 Von Maxym Kozmenko aus Tscherniwzi erreichen mich Fotos von einem Soldatenbegräbnis. Der Leichnam wurde im Beisein der Bevölkerung beigesetzt. Der Strom fällt immer wieder aus, wie in der gesamten Ukraine. Ein Freund aus Königstein, Deutschland, schreibt mir, dass sich die beiden ukrainischen Frauen mit ihren vier Kindern sich zwischenzeitlich gut eingelebt haben. Als ich so voll beschäftigt mit der Organisation des Umzugs für meine 84jährige Mutter in Zeltweg gewesen war, hatte ich kaum Zeit etwas niederzuschreiben. Doch meine Gedanken waren immer wieder in der Ukraine: wenn Menschen dort ihre Wohnung verlassen müssen, können sie kaum etwas mitnehmen und meist wissen sie nicht einmal, wo sie unterkommen können.
24.11.2022 Mychailo Wynnyckyj:Today, Ukrainians lived through their third mass rocket attack this month. According to official data 51 of the 70 missiles fired at us today were destroyed by air defenses. Sadly, 19 got through.The lights went out in Kyiv at around 2:20pm today. With the power off and with internet access sporadic at best, I was forced to reschedule my 3pm class - serious disappointment! This year, the students in my MA research seminar on Social Transformations are truly a wonderful group. I always look forward to Wednesdays at National University of "Kyiv-Mohyla Academy" (NaUKMA).When the sirens sounded I happened to be in the room next to the office of Serhiy Kvit. He invited us in for tea. The walls in Building 1 of Kyiv-Mohyla Academy are particularly thick, but we felt several explosions nevertheless. Yesterday, I took part in an online meeting of a special task force set up by the European University Association to explore how EU universities can assist Ukraine's higher education sector. We listened gratefully as our EU colleagues reported on the numbers of displaced Ukrainian students their institutions are hosting. Thank you!
But in Ukraine, life goes on! Generators power campuses. Starlinks provide internet... And so we postpone classes rather than cancelling them. Yesterday, our political science, sociology and international relations research group ran a wonderful online "work-in-progress" seminar with colleagues from the University of Toronto. The next one is scheduled for early December. My wife Marta Wynnycka and I have theater tickets next week! Life goes on!The thick walls of the ancient buildings of Kyiv protect us during rocket attacks, and the subway serves as an excellent shelter. And as several of my business school students have attested, even Tesla's can be charged with generators.Russian terrorism can't go on forever. When the missiles pause, and we've had our tea, we teach and learn, and work and live. We go on with life. Defiant. We joked today that less than a year ago, the prospect of living through a month with over 200 deadly missiles launched at us would probably have seemed quite scary. Now we have tea. We chat. We let each other know we're fine... Tomorrow I'll teach another class. Meanwhile, tonight we'll spend the evening by candlelight. Maybe I'll finally finish that damned chapter! Inconvenient? Yes. Frightening? Not particularly. Overwhelming? Nope! This nation is invincible!
---
Putins Philosophie. Kurze Einführung in einen nicht ungefährlichen Gedankencocktail
---
4.11.2022 Igor Pomernantsev:My First Bomb Shelter,Kyiv
"Aha", said the Ukrainian border guard as she checked my British passport. "Born in Saratov. Do you have dual nationality?" "Ni, no", I replied. I checked into the hotel in Lviv around midnight. In the morning I was woken by the Chopin march, from a soldier's funeral In the garrison cathedral of Peter and Paul next door. " Well, that's it. I'm home", I thought. I asked the girl at reception whether there were often funerals. She said yes, one every day, sometimes several.
The train from Lviv to Kyiv arrived at six in the morning. The Kyiv Waltz was playing. Soldiers on crutches were waiting on the platform. Half an hour later I reached my hotel in Podil. At seven the air raid siren sounded. I went down into the bomb shelter. Some American colleagues were there before me. I tried an off-the-cuff translation of the Kyiv poet Semyon Gudzenko:
I think I am a magnet,
That I attract mines.
A shell bursts, the lieutenant wheezes.
And death once more passes us by.
(1942)
My effort was pretty lame, especially "wheezes". The Americans were politely appreciative. Up above there was blood everywhere. I sat and wrote. I thought up two opening sentences: "Curfew. Night in Podil".
23.10.2022 Serhij Zhadan in seiner Rede zum Friedenspreis des Deutschen Buchhandels: "Warum werden wir Ukrainer hellhörig, wenn europäische Intellektuelle und Politiker den Frieden zu einer Notwendigkeit erklären? Nicht etwa, weilSerhij Zhadan in seiner Rede zum Friedenspreis des deutschen Buchhandels: "Warum werden wir Ukrainer hellhörig, wenn europäische Intellektuelle und Politiker den Frieden zu einer Notwendigkeit erklären? Nicht etwa, weilsie die Notwendigkeit des Friedens verneinen, sondern aus dem Wissen heraus, dass Frieden nicht eintritt, wenn das Opfer der Aggression die Waffen niederlegt. (…) Wir unterstützen unsere Armee nicht deshalb, weil wir Krieg wollen, sondern weil wir unbedingt Frieden wollen."
---
22.10.2022 Petro Rychlo, der Anfang Oktober in Wien, Klagenfurt und Innsbruck das Projekt Bukowinisch-Galizische-Kulturstraße vorstellte, schreibt aus Czernowitz "Heute wurden ukrainische Kraftwerke wieder massiv beschossen. Russland ist der schlimmste Terrorstaat. Auch in Czernowitz gab es heute schon zwei Luftalarme."
---
22.10.2022 Frankfurter Buchmesse: Schon seit vielen Jahren unternimmt Karl Schlögel Reisen in die Ukraine, auch in jüngster Zeit war er dort unterwegs. Dabei besuchte er die verschiedensten Städte des Landes, von Odessa bis Kiew über Donezk, und zeichnet Städtebilder, die zeigen was nicht fern von uns auf dem Spiel steht. Darüber spricht er im taz Talk mit Klaus Hillenbrand, dem Leiter von taz eins.
23.10.2022 Serhij Zhadan in seiner Rede zum Friedenspreis des deutschen Buchhandels: "Warum werden wir Ukrainer hellhörig, wenn europäische Intellektuelle und Politiker den Frieden zu einer Notwendigkeit erklären? Nicht etwa, weil sie die Notwendigkeit des Friedens verneinen, sondern aus dem Wissen heraus, dass Frieden nicht eintritt, wenn das Opfer der Aggression die Waffen niederlegt. (…) Wir unterstützen unsere Armee nicht deshalb, weil wir Krieg wollen, sondern weil wir unbedingt Frieden wollen."
---
10.10.2022 Morgens beim Hören der Nachrichten "Raketenangriffe auf Städte in der Ukraine". Ich schreibe Igor, der in Kyiv ist, eine Nachricht. Er antwortet umgehend: "well, I am in a bombshell in Kyiv".

Abends berichtet der ORF "Nach Angaben des ukrainischen Verteidigungsministeriums feuerte Russland insgesamt 83 Raketen ab. 52 dieser Raketen seien von der ukrainischen Luftabwehr abgefangen worden. Selenskyj sagte, Russland habe bei den Angriffen auch vom Iran hergestellte Drohnen eingesetzt. Nach Angaben der ukrainischen Armee wurden einige dieser Drohnen im Nachbarland Belarus und auf der Krim gestartet. Moldawien warf Russland die Verletzung seines Luftraums vor."
Petro Rychlo ist von Tscherniwzi nach Wien gereist. Am 10.10. 19 Uhr präsentiert er in der Österreichischen Gesellschaft für Literatur ›Die Bukowinisch-Galizische Literaturstraße‹.Deutschsprachige Autor*innen wie Karl Emil Franzos, Joseph Roth, Soma Morgenstern, Hermann Kesten, Manès Sperber, Rose Ausländer, Gregor von Rezzori, Paul Celan, Salcia Landmann u. a. stammen aus den einstigen östlichsten Kronländern der k. u. k. Monarchie Galizien und der Bukowina und avancierten zu Klassikern der deutschsprachigen Literatur. In ihren Geburtsorten waren sie noch vor kurzem kaum bekannt. Das 2016 gestartete deutsch-ukrainische Kulturprojekt ›Bukowinisch-Galizische Literaturstraße‹ sieht seine Aufgabe darin, die Namen dieser Dichter*innen in der Ukraine zu entdecken.
---
5.10.2022 Der Keller ist für Peter Pomerantsev zum Sinnbild des Kriegs gegen die Ukraine geworden: der Keller als Schutz- und Fluchtraum, aber auch der Folterkeller. Und der Keller als Metapher, den er in Time beschreibt: "Russland ist ein Land, das keine Anstrengungen unternimmt, um sein Erbe an Massenmord und institutionalisiertem Sadismus aufzuarbeiten, die Verantwortlichen zu benennen, um Vergebung zu bitten und sich von diesem Erbe zu lösen. Es gibt nicht einmal mehr ein Museum für die zig Millionen Toten in Stalins Gulags, geschweige denn für Russlands Kolonialverbrechen. Kurz vor der jetzigen Invasion wurde die NGO Memorial, die die sowjetischen Verbrechen zu dokumentieren versuchte, als 'ausländischer Agent' verboten. All dies Grauen bleibt im Keller des russischen Geistes eingeschlossen, eine Geschichte der Erniedrigung, die in einem sadomasochistischen Folterkeller ausgespielt wird. Und genau in diesen Keller wollen die Russen die Ukrainer sperren... Wenn wir es schon nicht geschafft haben, der Vergangenheit zu entkommen, so ist die Botschaft, dann müsst ihr sie mit uns erleiden." Perlentaucher
---
Gemeinsam mit Jakobine Motz und Claus Löser geht es mit dem PKW am 30. August 2022 ab Prag, drei Tage lang durch Tschechien, Slowakei, Ungarn, Rumänien, an LKW-Warteschlangen vorbei zum ukrainischen-rumänischen Grenzort Siret; von der Stadt Tscherniwzi 35 Kilometer entfernt. Überrascht hat mich, dass einer der Grenzübergänge in Ungarn geschlossen war, am nächsten gab es genaue Kontrollen, um nach Rumänien einreisen zu können. Entlang der Theiß, sie bildet zum Teil den Grenzverlauf zwischen Rumänien und der Ukraine, fuhren wir in Serpentinen die Waldkarpaten rauf und runter. Auf der rumänischen Seite von Siret gab es bei der Einreise in die Ukraine eine Wartezeit von zwei Stunden, auf der ukrainischen Seite eine Stunde. Es gab eigene Grenzübergänge für FußgängerINNEN, PKWs und LKWs. Ich hörte, dass LKW-Fahrer sich daran gewöhnt haben bis zu vierzehn Tage an der Grenze zu warten, um abgefertigt zu werden. Dieses so andere Zeitgefühl, sorgt für Achterbahngefühle im eigenen Blutkreislauf. Hunde und Krähen sind nicht ausweispflichtig und wechseln die Grenze ohne Wartezeiten.
Die Bukowina (Buchenland) eine geschichtsträchtige Landschaft nordöstlich der Karpaten im Grenzraum zwischen Mittel-, Südost- und Osteuropa zeichnet sich u.a. durch ihre schwarze Erde aus. Die nördliche Hälfte gehört zur Ukraine und ist Teil des Vetwaltungsgebiets Tscherniwzi. Die südliche Hälfte gehört zu Rumänien und ist Teil des Kreises Suceava. Die Bukowina war, wie das östlich davon liegende Bessarabien, jahrhundertelang ein Teil des historischen Fürstentums Moldau, von 1775 bis 1918 gehörte das Gebiet mit seiner multiethnischen Bevölkerung zur Habsburgermonarchie.
Tschwerniwizi ist bis September 2022 von direkten Raketenangriffen verschont geblieben, es haben hier seit März 2022 mehr als 100.000 Flüchtende aus der gesamten Ukraine, Unterschlupf gefunden.
Während den dreitägigen Lesungen, Gespräche im Rahmen von Meridian Czernowitz XIII, Menschen und Orten wieder begegnet. Den aus Tscherniwizi stammenden Journalisten, Fotografen Maxym Kozmenko kennengelernt. Er ist in der Ukraine für die ACC Medien Agentur unterwegs, dokumentiert das Kriegsgeschehen, berichtet von Einzelschicksalen.
In dem im Rahmen von Meridian Czernowitz XIII geführten Gespräch zwischen dem deutschen Autoren, Kritiker Helmut Böttiger und dem ukrainischen Schriftsteller, Übersetzer und Psychoanalytiker Jurko Prochasko tritt mit gegenseitiger Wertschätzung das Problem der Kommunikation in Kriegszeiten in den Vordergrund: wie miteinander reden, wenn der eine, ein vom Krieg direkt Betroffener und der andere Beobachter aus der Ferne ist. Das Zerbrechliche als Gegensatz zum Kriegsgeschehen, für Prochasko ist das Lied "Fragile" von Sting ein Bindefaden.
Die aus der Schweiz stammende Ukraine-Kennerin Judith Schifferle, ihr begegnete ich 2011 das erste Mal beim zweiten Meridian Czernowitz arbeitet an einem neuen Gedichtband, der 2023 unter dem Titel "«Kurze Geschichte der Unabhängigkeit 2003–2023» erscheinen soll: "Ich habe gelernt,/ meine Stimme über die Gräber zu tragen./ Ich habe gelernt,/ ohne Schatten unter der Sonne zu stehen./ Ich habe gelernt, wie Sprache sich im Angesicht des Kriegs in Reime zwingt./"
Es gab ein Wiedersehen mit dem Celan-Übersetzer und -Kenner Petro Rychlo, der u.a. das Paul Celan Zentrum in Tscherniwzi leitet und dem geistigen Vater von Meridian Czernowitz Igor Pomerantsev, der die Antwort einer Zuhörerin zu einem Essay verarbeitete: "Thank you for your tears".
Das Hineinfühlen in die Gegensätze, das Annehmen, dass nicht alles zu verstehen ist und dass es wärmende Nähe in kälter werdenden Zeiten gibt, nehme ich mit nach Prag.
10.9.2022, Milena Findeis
---
12.8.2022 John Sweeney: Der Killer im Kreml / Catherine Belton: Putins Netz / Katja Gloger: Putins Welt / Manfred Quiring: Putins russische Welt / Oliver Stone: Die Putin-Interviews / Heinemann-Grüder/Crawford/Peters: Lehren aus dem Ukrainekonflikt. Das Regime Putin, Bemerkungen zu sechs Büchern von Gregor Keuschnig nachzulesen im Begleitschreiben.
---
13.7. Aus Ralf Fücks Gastbeitrag im Spiegel
Appeasement wird Putin nicht stoppen

Die Forderung, die Ukraine möge einem Ende des Krieges nicht länger im Wege stehen und Putin geben, was er fordert, gewinnt an Boden. Clausewitz hat diese Verkehrung von Täter und Opfer auf die ironische Formulierung gebracht, dass letztlich der Verteidiger schuld am Kriege sei, weil er sich dem Angreifer in den Weg stellt: Der Aggressor würde gern ganz friedlich einmarschieren. Unsere Unterwerfungspazifisten meinen das im vollen Ernst. Sie sind sich mit Lawrow einig, dass der Westen mit seinen Waffenlieferungen den Krieg unnötig verlängert. Die Ukraine habe eh keine Chance, den russischen Vormarsch aufzuhalten. Das spricht nicht nur der Entschlossenheit der Ukrainer – Männer wie Frauen – Hohn, um ihre Unabhängigkeit und Freiheit zu kämpfen. Der Ruf nach einem Kompromiss mit Putin verkennt auch den Charakter des russischen Feldzugs.

---
Am 6.7. antwortet Serhij Zhadan auf einen offenen Brief, der von deutschen Intellektuellen verfasst wurde "Wenn die Ukraine verliert, gehen die Opfer nicht in die Tausende, sondern in die Hunderttausende. Und das Blut dieser Toten haben jene auf dem Gewissen, die immer noch unbeirrt mit dem Bösen spielen und dabei allen Wohlergehen und Frieden wünschen."
---
Maryna Viazovska, 1984 geboren in Kyiv, ist seit 2018 ist Professorin an der École polytechnique fédérale de Lausanne (EPFL) erhält im Juli die Fields-Medaille 2022 für den Beweis, dass das E8-Gitter die dichteste Packung identischer Kugeln in 8 Dimensionen darstellt, sowie für weitere Beiträge zu verwandten Extremproblemen und Interpolationsproblemen in der Fourier-Analyse. Das Video zeigt, wie verbunden sie sich mit der Ukraine fühlt und welche Verluste der Krieg birgt.
---
Am 23.6.2022 lenkt Діана Клочко meine Aufmerksamkeit auf die mit Ton Dokumentation WAR von Anton Baibakov, Fotos Olexandr Glyadyelov., Direktor Oleg Sosnov. Das Hinschauen fällt schwer. Es handelt von der Allgegenwärtigkeit des Krieges in der Ukraine, diesen auszublenden erlaube ich mir nicht - speziell an einem schönen Sommertag.
---
Der kleine Stand der Ukraine auf der Prager Buchmesse (Svět knihy, Praha '22, 9.-12.6.), verglichen mit jenem der Frankfurter Buchmesse, die nach 14 Jahren wieder in Prag mit einem Stand vertreten ist, immer gut besucht. Anschließend an den Stand der Ukraine, ein Podium für Lesungen, Diskussionen "Literatur, die Stimme der Freiheit" (Literatur jako hlas svobody) immer gut besucht. Vor allem von jungen ukrainischen Frauen mit Kindern. Manche der zweisprachigen Bücher werden kostenlos an Kinder verteilt. Ich schaue den Kindern zu, wie sie malen, in etwas vertieft sind. Sie alle mussten fliehen. In einem Gespräch mit Radka Denemarková "Jetzt müssen wir der Ukraine helfen, dort entstehen Tag für Tag neue Massengräber und es ist die Aufgabe der zeitgenössischen Literatur, hin- und nicht wegzuschauen."
---
13.6.2022 "Das Dunkel des gelebten Augenblicks" Bloch zitierend blickt Karl Schlögel auf das zerstörte Mariupol, damit wurde etwas ausgelöscht, was so schwer zu fassen ist. "Ich habe keine Sprache hierfür".
---
Mit 29.4.hat sich die Spezialvisia für Flüchtende aus der Ukraine auf 310.00 erhöht. Ende April wieder in Österreich, bekomme von einer Freundin ein Armband geschenkt, dass in und für die Ukraine produziert wurde. Die Innenstadt von Wien ist voll von Touristen, ähnlich wie in Prag. In der Luft Sprachfetzen in Ukrainisch, die Züge voll besetzt.
Anfang Juni in einem Park in Prag Smíchov: Gespräch von der Nachbarbank, die Zeitung lesende Frau flüchtete aus einem Dorf im Osten der Ukraine nach Prag. Gedankenflug: wenn ich alles zurücklassen müsste, hätte ich diese Gelassenheit?
Die Produzentin von Radio Liberty, Vera Girich, wurde getötet, als eine russische Rakete das Haus traf, in dem sie in Kyiv lebte. Der Beschuss fand am 28. April 2022 statt. Die Leiche der Verstorbenen wurde am Morgen des 29. April unter den Trümmern gefunden.
21.4.2022 Erhalte in der Nacht auf den 21.4. ein Mail von Anna Schor-Tschudnowskaja, Assistenzprofessorin der Fakultät für Psychologie, Sigmund Freud Privat Universität Wien und Autorin: sie sendet mir einen Essay, der sich auf die Science-Fiction-Klassiker von Stanisław Lem und Ray Bradbury - im Hinblick auf die Gegenwart, Zukunft? bezieht. Beim recherchierenden Lesen finde ich einen Briefwechsel zwischen Anna Schor-Tschudnowskaja und Irena Brežná aus dem Jahre 2016, FRAGILE EUROPÄISCHE KORRESPONDENZEN, der für mich widerspiegelt, wie der Hintergrund - jenseits des deutschen Sprachraums in dem frau lebt - die Wahrnehmung prägt.
10.4.2022: Tschechien hat seit dem Beginn des Kriegs in der Ukraine 276.657 Spezialvisa für ukrainische Flüchtende ausgestellt.
Nach dem Begräbnis eines Angehörigen am 31.3.2022 in der Steiermark, das bei strömenden Regen in Würde stattfand, die Nachrichten von immer weiteren Gräueltaten in der Ukraine begangen von den Angehörigen der Russischen Föderation und alles läuft weiter. Ich bekomme die Nachrichten von den Kriegsverbrechen nicht aus meinem Kopf.
Am 24.3. ein Aufruf aus der Ukraine für den Frieden auf die Straße zu gehen, seit einem Monat dauert der Krieg. Jeden Tag einen Sinn, einen Zweck finden. Am Nachmittag eine Nachricht von einem Todesfall in meiner Familie in Österreich.
Am 18.3. feiert Moskau ein großes Event "8 Jahre Einverleibung der Krim", Putin redet, alle klatschen, während die Ukraine weiter bombardiert wird. In Lviv werden leere Kinderwagen aufgestellt, für die getöteten Kinder. Höre und lese Karl Schlögel, die Nachrichten meiner FreundInnen in der Ukraine, tschechischen Radio Stationen, Radio Free Europe - Radio Liberty, folge dem Liveticker von BBC und arbeite weiter an einem "put out".
Der tschechische Premier Petr Fiala ist am Dienstag, 15.3.2022 gemeinsam mit den Premierministern Polens und Sloweniens, Mateusz Morawiecki und Janez Janša, nach Kiew per Bahn gereist. Dies teilte Fiala auf Twitter mit. Mitgereist ist auch der polnische Vizepremier Jarosław Kaczyński. Die Reise finde nach Absprache mit dem Präsidenten des Europäischen Rates, Charles Michel, und der Präsidentin der Europäischen Kommission, Ursula von der Leyen, statt, so Fiala. Der tschechische Premier kehrt am 16.3. mittags wieder nach Prag zurück, laut einer Erhebung befinden sich zu diesem Zeitpunkt 270.000 Flüchtende in Tschechien. Das was der Migrationsforscher Gerald Knaus im österreichischen und deutschen TV fordert: Koordination, das geschieht in Tschechien durch den angerufenen Notstand. Menschen werden mit Zügen, teilweise an den Grenzen, teils direkt aus der Ukraine abgeholt und im ganzen Land gibt es Integrationszentren.
Am 11.3. haben die tschechischen Abgeordneten die sogenannte "Lex Ukrajina" gebilligt. Mit den drei Gesetzesvorlagen sollen die Flüchtlinge aus der Ukraine problemlos einen Duldungsstatus erhalten. Dieser stellt sie gleich mit EU-Ausländern, die hierzulande eine Daueraufenthaltsgenehmigung haben. Innenminister Vít Rakušan (Stan) erläuterte am Mittwoch:
"Wer diesen vorübergehenden Schutz erhält, der zunächst für ein Jahr gilt, hat in allen Ländern der EU die gleichen Rechte beim Zugang zum Arbeitsmarkt oder zum Gesundheitssystem." Radio Prag, Tschechischer Rundfunk
In Tschechien lebten vor dem Beginn des Krieges offiziell rund 120.000 Menschen mit ukrainischer Staatsbürgerschaft, sie stellen damit die größte Anzahl von Ausländern dar. Die tschechische Regierung unter Premierminister Petr Fiala koordiniert die Aufnahme von Menschen auf nasiukrajinci.cz (viersprachrig, tschechisch, ukrainisch, englisch, russisch). На dnasiukrajinci.cz довідка, прийом людей в Чехії публікуються та координуються чеською та українською мовами. In Tschechien werden unter https://www.mujrozhlas.cz/ukrajina ganztägig Informationen in ukrainischer Sprache ausgestrahlt. Ab 13.3. gibt es eine ukrainische Version der Nachrichten von CT24.
Milena Findeis, Zeitzug
---
Ein Podcast- und Radiosendung der russischen Redaktion von Radio Free Europe, Radio Liberty in Prag. Seit Kriegsbeginn sprechen Ivan Tolstoi und Igor Pomerantsev mit denen, die den Krieg mit eigenen Augen gesehen haben, geflüchtet sind. Ausstrahlung von "Freedom" montags und freitags um 18.32 Uhr mit Wiederholungen um 23.32 Uhr, 5.32 Uhr, 10.05 Uhr und 15.32 Uhr - als Podcast jederzeit nachzuhören:
---
"Spendenaufruf der Kurt Wolff Stiftung, der Zusammenschluss unabhängiger Verlage in Deutschland, holt in Kooperation mit ukrainischen Verlagen Bücher aus der Ukraine nach Deutschland. Wir kaufen die Bücher von den Verlagen und verteilen sie unentgeltlich – an Schulen, an Hilfseinrichtungen, an Büchereien, an Buchläden. Das hilft den ukrainischen Verlagen, und es hilft den Kindern hier."
---
«Wenn die Ukraine nicht existiert, kann man alles mit ihr machen»
Putin ist gleichzeitig Symptom und Ursache all dessen. Er steht im Einklang mit einem grossen Teil der russischen Kultur und Gesellschaft. Aber er ist damit nicht ganz allein: Auch die deutsche Populär- und Politkultur nimmt die Ukraine nicht wirklich wahr. Die angelsächsischen Länder hatten lange Zeit ebenfalls ein schwammiges Bild der Ukraine. Das hat sich jetzt geändert. Die Vorstellung, dass die Ukraine nicht wirklich existiert, war aber sehr verbreitet, vor allem natürlich in Russland, aber auch in Europa und den USA. Peter Pomerantsev, SRF 22.4.2022
---
Thoughts from Kyiv - 2 May
Today's thoughts are pretty heavy - thank you to the Kyiv Post for agreeing to publish this text and for editing.
Excerpt:
We dream of victory. We dream of peace. We dream of healing. We dream of making Kyiv the Capital of Freedom and of Ukraine gaining membership in the EU (and NATO). But can we really plan anything?
As humans we are free to dream (always). Agency means being free to act on those dreams: to plan, to deliberate on the pros and cons of variants, to weigh choices against values, and then to adopt a course of action, and then to act without constraint.
Watching the daily press briefings about lost or liberated territory, about weapons shipments, and about the destruction caused by the Russians in Ukraine, it is easy to lose sight of what this war is really about. We are fighting for our freedom: for the ability to make deliberate choices and act upon them.
Amid the destruction, horror, death and constant bombardments we must not lose sight of our purpose. It is what makes us human. If we lose this purpose, the war will cease to be about us; we will lose our agency, our chance to gain real freedom. We may preserve our territory, but we will lose both our individual and collective "subyektnist."
Link to full article Kyiv Post
---
Ukraine Is Our Past and Our Future
As she lay dying in a North London hospital, my grandmother started to hallucinate scenes from her Ukrainian childhood. All around the ward she saw starving children, skeletal, collapsing in the long, white, strip-light corridors—lying, leaning, barely breathing by the hospital beds. At first my mother and I couldn't understand what she was referring to. What children?


Then we realised Galina Ivanovna was surrounded by suppressed memories from her childhood. She was back on Sumska, the elegant high street of her hometown of Kharkiv. She was back in 1932, the height of Stalin's man-made famine meant to break the resistance of the Ukrainian peasantry to his rule. His victims were staggering from the countryside into the city in search of food, their dead bodies scattered across the dusty road.
Peter Pomerantsev, Time, 6.4.2022
---
Ukraine: Krieg auf der Schiene
ARTE Reportage 1. 4.2022
---
Posted on March 22, 2022 by Caralee Adams
As the war intensifies in Ukraine, volunteers from around the world are working to archive digital content at risk of destruction or manipulation. The Internet Archive is supporting several preservation efforts including the Saving Ukrainian Cultural Heritage Online (SUCHO) initiative launched in early March.
---
Learn, Understand, Act ...
22.3.2022, Ukrainian and foreign intellectuals talk about the experience of the war and share their own observations.
Speakers of the 9th episode:
– Oleksiy Panych, philosopher
– Martin Pollack, author
Oleksiy Panych How serious and durable is the current radical change of Western additude to Russia? What was mistaken in Western understanding of Russia until now? Is Russia a European country, and, if not, just what it is? Why Western liberalism is itself a deadly poison for Russian empire? In what sense and how deeply Ukrainians are not Russians? How a philosopher could help with understanding war in general and this Russian-Ukrainian war in particular?
---
Things Worth Fighting For
16.3.2022 What we can learn from President Zelensky, Bari Weiss, Common Sense
Zelensky knows what he is fighting for. "We are all at war," he said in an address to Ukraine. "Everywhere people defend themselves, although they do not have weapons. But these are our people. They have courage. Dignity. And hence the ability to go out and say: I'm here, it's mine, and I won't give it away. My city. My community. My Ukraine."
---
The Earth is Blue as an Orange"
When poet/filmmaker Iryna Tsilyk first visits the Trofymchuk-Gladky family home in the war-zone town of Krasnohorivka, Ukraine, she is surprised by what she finds: while the outside world is made up of bombings and chaos, single mother Anna and her four children are managing to keep their home as a safe haven, full of life and full of light.

Every member of the family has a passion for cinema, so it feels natural to shoot a film inspired by their own life during a time of war. The creative process raises the question of what kind of power the magical world of cinema might have during times of disaster, and how to picture war through the camera's lens. For Anna and the children, transforming trauma into a work of art is the ultimate way to stay human.
Director and cast: Iryna Tsilyk
---
Overcome fear!
An appeal by the Ukrainian journal 'Prostory'
9 March 2022 'We would prefer to talk about art and literature, but right now we are asking for solidarity. Overcome fear, close the skies above Ukraine, save those who may tomorrow join the ranks of the killed and wounded.'
Whole appeal published by Eurozine
---
>With regard to Tolstoy, Pushkin and Dostoyevsky — nobody burns their books in Ukraine. In Ukraine books are not burnt at all. Instead, the Russian army burns and bombards Ukrainian museums, churches, memorial sites, including Babyn Yar, and the Kharkiv Slovo House, a house-monument to Ukrainian writers of 1920-1930s who were practically all executed by NKVD. This generation of Ukrainian writers is known as "Executed Renaissance".<
White or Black – President of PEN Ukraine in reply to PEN Germany's letter, Published: 08.03.2022
---
Serhii Plokhii and Timothy Snyder: The War in Ukraine and Universal Values
11.3.2022 Vienna: On 24 February, Russia invaded Ukraine, turning an eight-year conflict that started with the annexation of crimea in 2014, into a full-scale war. This public conversation with Serhii Plokhii and Timothy Snyder moderated by Philip Blom discussed where things stand and what's at stake. An event hosted by Institute for Human Sciences (IWM).
Redefining normality in Ukraine
Authors: Katherine Younger, Timothy Snyder, Masha Gessen, Nataliya Gumenyuk, Mykola Balaban, Angelina Kariakina, Serhii Plokhii, Marci Shore, Serhiy Zhadan
In his recent lecture for the Harvard Ukrainian Research Institute, co-sponsored by the IWM, Timothy Snyder argued that we should think of Ukraine as a normal country – a place that might be exceptional only for the intensity with which it has experienced major historical trends. Recasting Ukraine's past in this light helps to cut through the historical myths propagated by the Kremlin and to understand present-day Ukraine in its own right.
Continue reading: Demythologizing Ukraine's Past
---
Yes, we are strong and grateful for your support and your admiration. The problem is that Putin's bombs will not be stopped by the strength of our spirit. And babies born in bomb shelters die of sepsis caused by the dust raining down on them during attacks, Mary's stable was much more hygienic. Oksana Zabuzhko, 8.3.2022, European Parliament

---
"We often talked about Russia. And we didn't accept the ideology of Igor Ogurtsov, who was serving his sentence with us, blinded by the hope of the revival of Great Russia. And here he is, a strange dreamer who has long gone to another world, embodied in Putin, your president. An amazing embodiment of the victim of the KGB, an honest, impractical and very lonely dreamer in a cynical, deceitful, poorly educated man who believes in the thoroughness of the logic of the bad philosopher Ilyin. In the worst of the KGB officers, the destroyer of Russia, Vladimir Putin." Semyon Gluzman, Ukrainian psychiatrist and human rights activist

6.3.2022 My friend Semyon Gluzman is in his apartment in Kyiv, waiting for the Russians to come. He is not leaving, because ten years of camp and exile in the Soviet Union was enough – he is free at his home and no Russian invaders can change that.
Yet he faces the terrible feeling of having been pulled into a war imposed by a madman, in which there are only losers. Even when Ukraine has won, it will have paid a huge price and have faced unimaginable human suffering.
The following he wrote several days ago, when the first Russian armor had entered his city and the sirens were calling citizens several times a day to hide in bomb shelters from attacks by the "brother nation", Russia. Robert van Voren
---
3.3.2022 Mychailo Wynnyckyj is Associate Professor of the Department of Sociology and Kyiv-Mohyla Business School, Director of the Doctoral School, National University of "Kyiv-Mohyla Academy". He spoke to the Balie (De Balie is The Netherlands' foremost venue for contemporary arts, politics and culture) on the occasion of the Russian invasion in February 2022. "Thoughts from Kyiv", FB
---
"All diese wunderbaren Menschen verbergen ihre Tränen, wenn sie humanitäre Hilfe bringen, und laufen schnell zurück in ihre Autos, wo sie endlich ihre Emotionen frei austoben lassen. Wir erlauben uns keine Tränen, weil wir standhaft sein müssen und einander ermuntern. Aber weinen, vor Rührung oder vor Wut, wollen alle. Weinen nach dem vergangenen Leben, das noch vor sechs Tagen normal war, aber nie mehr so wird, wie es früher war." Wir sind mitten im Film Alien, Auf dem Grabe des Achilles
---
"Language defines reality. Language defines who is a "real" person, and who isn't. He who controls language controls life and death.
That was the conclusion of the literature professor Viktor Klemperer, as he tried to make sense of Nazi propaganda in the 1930s and 40s. As a German Jew in Dresden, Klemperer lost his home, his academic position, his health. But he kept his life, thanks to being married to a non-Jew. He spent the war doing odd jobs in factories, being interrogated and beaten by the Gestapo, and keeping a diary where he tried to figure out how ordinary, pleasant Germans became spellbound by Nazi propaganda.
Putin, meanwhile, is attacking Ukrainian media infrastructure. Among his latest missiles attacks on densely populated urban areas was an attempt to bomb the Kyiv public broadcaster. His weapons hit next door Babyn Yar, the site of the Nazi genocide of Kyiv Jews, where 33, 771 were executed in two days in 1941. To that horrific figure we can now add, according to Ukrainian authorities, at least five more innocent civilians. Putin's metaphorical "denazification" literally, lethally continues in the traditions of the Nazis." 4.3.2022
---

Gasan Gusejnov, Die Faschisierung des Antifaschismus
"Die Faschisierung der politischen Sprache geht in Russland mit erstaunlicher Geschwindigkeit vonstatten und ist das größte Hindernis auf dem Weg zu einer kritische Analyse der Lage in Russland. Trotz der offensichtlichen Verantwortung des herrschenden russischen Regimes für die militärische Katastrophe in der Ostukraine und trotz des unvermeidlichen wirtschaftlichen Niedergangs im eigenen Land produziert die Propagandamaschine der Russischen Förderation ein virtuelles Sozialprodukt: die Bereitschaft, für vorgeblich von Nachbarländern, Europa und den Vereinigten Staaten von Amerika ausgegangenen Kränkungen zu töten und zu sterben. Mit diesem Krieg um den "Lebensraum" und die sakrale "Einheit" der "russischen Welt" zwingen Wladimir Putin und sein Machtzirkel dem russischen Volk die Verachtung des Völkerrechts auf, und den Komplex, die russischen Bürger seien die benachteiligten Träger der höchsten Werte: ihn sei ihr politisches Eigentum, die Sowjetunion, weggenommen worden. Um diese Komplexe zu befriedigen, bieten sie Waffengewalt an. Und offenbar ist der bewaffnete Überfall auf die Ukraine der einzige Ausweg, den das heutige Regime sieht"
---
Timothy Snyder, American author and historian
How to read perversion
Kremlin nuclear propaganda and Russian war aims
"...
We are being invited to participate in the generation of nonsense. When we repeat contradictory and perverse arguments, we commit part of our minds to them, and start to become less reasonable ourselves.
Nothing that the Kremlin has said about Russian war aims actually makes any sense. But it does make nonsense. The war on the ground in Ukraine is all too real. But the Russian war is also fought in and for unreality, to extend its hold on our minds as far as possible. When unreality spreads, reality becomes more murderous.
The senseless talk about nuclear weapons is an example of this. But, as I will hope to keep showing, the creation of of nonsense is an essential element of Russian warfighting. As such, it calls for analysis, and resistance."
4.3.2022
---
Der belarussische Schriftsteller Alhierd Bacharevič wendet sich in einem offenen Brief, der auf der Webseite der ukrainischen Zeitschrift Ukrajinsky Tyshden (dt. Die Ukrainische Woche) veröffentlicht wurde, an die Ukrainer. Darin erklärt er nicht nur seinen persönlichen Schmerz über den und seine persönliche Schuld an dem Krieg, sondern auch die seiner Landsleute, dazu die zahlreichen Beziehungen, die sich zwischen Ukrainern und Belarussen entwickelt haben und die Bedeutung der Proteste in Belarus. Er wendet sich gegen den Vorwurf, dass seine Heimat nun grundsätzlich als
"Fleck der Schande" angesehen werden soll.

"...
Ihr, die Ukrainer, verteidigt Euer Land. Eure Armee, eure Territorialverteidigung, jeder Ukrainer und jede Ukrainerin widersetzen sich dem Aggressor. Euer Krieg ist ein Verteidigungskrieg, ein Krieg für die Freiheit. Ihr seid schon einen so langen Weg zur Freiheit gegangen, dass Putins Imperium Euch nie wieder in sein Gefängnis zurückholen kann. Die Ukraine hat sich für immer verändert.
2020 haben wir, die Belarussen, uns davon überzeugt, dass wir keine belarussische Armee haben. Die Einheiten, die uns verteidigen sollten, führten Krieg gegen unbewaffnete Menschen. Die Belarussen haben gesehen, wie die, die dem Volk ihre Treue geschworen hatten, dieses Volk ohne mit der Wimper zu zucken verrieten, wie sie aktiv an Massenrepressionen gegen die eigenen Mitbürger teilnahmen. Seitdem hält niemand im Land die belarussische Armee mehr für wirklich belarussisch. Belarus hat keine Armee. Es hat nur Lukaschenkas Generäle, die von Putins Medaillen träumen. Es hat diejenigen, die deren verbrecherische Befehle ausführen. Und es hat Menschen – die jetzt als Kanonenfutter in einem verbrecherischen Krieg benutzt werden.
..."

Der ganze Brief von Alhierd Bacharevič, lektoriert von Tina Wünschmann ist im dekoder nachzulesen, English version translated by Translated by Jim Dingley, Dear Ukrainians, we have a common enemy – dictatorship. Let's not be divided, Voxeurop



---
Die Nobelpreisträgerin und Schriftstellerin Swetlana Aleksjewitsch bezeichnete in der Sendung Freedom Premium den Krieg Russlands gegen die Ukraine als ein schlimmeres Übel als den Zweiten Weltkrieg.
---
Діана Клочко, Kyjiw, Kunstkritikerin, Mitglied des ukrainischen PEN
Diana traf ich das erste Mal persönlich 2010 in Tscherniwzi. Sie arbeite damals für einen großen ukrainischen Verlag und wenn sie Fotos brauchte, stelle ich ihr diese gerne zur Verfügung. Im Sommer 2015 folgte ein weiteres persönliches Treffen in Kyjiw anläßlich einer Veranstaltung der Böll Stiftung, zu der sie mich eingeladen hatte.
Als der Krieg begann, schaute ich täglich ich auf ihr FB Konto, sah, dass sie für 3.3.2021 eine Online-Veranstaltung über Bruno Schulz plant. Gespannt drückte ich abends auf den Link und tatsächlich über Zoom hielt sie auf Ukrainisch einen Vortrag über Bruno Schulz. Weitere Teilnehmerinnen meldeten sich um über Celan, Kafka zu sprechen. Der Krieg wurde mit keinem Wort erwähnt.
Diese unbeirrbare Motivation, das zu tun, was einem wichtig ist hat mich - die in Prag sitzt - aufgebaut. Danke Diana! Sie leben das, wofür ich die Ukraine liebe. Ich hoffe wir sehen uns wieder von Angesicht zu Angesicht.
Milena Findeis
Die Stellungnahme der Kunstkritikerin Diana Klochko (Діана Клочко) Thema Kunst und Propaganda in Zeiten des Kriegs
---
An online conversation with Yuval Noah Harari and Timothy Snyder, moderated by Anne Applebaum
Victor Pinchuk Foundation, 2.3.2022
---
JURKO PROCHASKO, ukrainischer Essayist, Germanist, Schriftsteller und Übersetzer, Lemberg
Der ukrainische Essayist, Germanist, Schriftsteller und Übersetzer, JURKO PROCHASKO, hat, vermittelt über seinen Verlag Edition Fototapeta, einen eindringlichen Brief und Lagebericht aus Lwiw geschrieben EIN BRIEF AUS LEMBERG: "...wir müssen stehen, es ausstehen, überstehen..."
"Ihr fragt natürlich vor allem, wie Ihr uns helfen könnt. Ihr könnt so viel für uns tun, weil Ihr grundsätzlich so viel und so gut könnt, jede(r) in ihrem, seinem Bereich, sei es mit Wort oder Tat. Derzeit möchte ich Euch alle darum ersuchen, eh das zu tun, was Ihr am besten könnt: erklären, aufklären, schreiben, publizieren, produzieren, nachdenken, zuhören, hinhören, zuschauen, wegschauen tut Ihr sowieso nie. (...) Liebe Freunde, es kann nun sehr unterschiedlich weitergehen und kommen. Und wir müssen stehen, es ausstehen, überstehen, um dann wieder aufzuerstehen. Uns bleibt nichts mehr übrig."
Jurko Prochasko über LEMBERG in: METROPOLEN DES OSTENS, Zehn Essays Herausgegeben von Angela Huber und Erik Martin, 2021, 1.3.2022
---

Days after Russian President Vladimir Putin unleashed an unprovoked invasion of Ukraine, casualties are mounting and the prospects for productive negotiations are uncertain. Where might the war be headed, and what are the potential consequences for Russia? Kadri Liik, a senior policy fellow at the European Council on Foreign Relations, joins host Steve Gutterman to discuss in a special edition on Twitter Spaces. February 28, 2022

---
CLAUDIA DATHE: Große kleine Sprache Ukrainisch
Momentan in aller Munde und doch eine weitgehend unbekannte Größe: die Ukraine mit ihrer höchst lebendigen und eigenwilligen Kultur- und Literaturszene.
Von 2000 bis 2005 habe ich in Kyjiw gelebt und an der dortigen Technischen Universität Übersetzen gelehrt. Zunächst arbeitete ich in meinen Lehrveranstaltungen ausschließlich mit dem Sprachenpaar Russisch-Deutsch. Im zweiten Jahr meines Aufenthalts begann ich – angeregt durch einen vom Goethe-Institut organisierten Workshop zur Dramen-Übersetzung – mit einer Privatlehrerin Ukrainisch zu lernen. Zu dieser Zeit wurde in Kyjiw noch überwiegend Russisch gesprochen, sodass ich, obwohl ich in der ukrainischen Hauptstadt lebte, paradoxerweise wenig Sprachpraxis hatte. In der Dissidenten- und Literaturszene, in die mich der Celan- und Herta-Müller-Übersetzer Mark Belorusez einführte, wurde eine unideologische Zweisprachigkeit gepflegt, die in angenehmer Weise an die Mehrsprachigkeit der Region im frühen 20. Jahrhundert erinnerte.
Der ganze lesenswerte Essay über die literarische Szene in der Urkaine von Claudia Dathe 2 auf TraLaLit, 28.2.2022


---
Ivan Shvedoff was born in 1969 in St. Petersburg, he lives in Prague and works as an actor often in Germany.

Gedicht "Fluch" von Claus Löser aus Berlin , 25.2.2022
Du kommst aus dem Nichts
nur das Nichts lebt in dir
und das Nichts wuchert
und weiß jenseits von
deinen schmalen Grenzen
nicht dass du tot bist
und immer schon warst.

Armer Mensch
kleiner Mensch
übergroße Metapher
aller Winzigkeit
in die du eingehst
aus der du kommst.

Nur das Nichts ist
dein Heim selbst das Mitleid
darüber bleibt ohne Krume
zu pflanzen die Saat.

Und nun hinweg mit dir
der Weg deines Namens
endet im Staub
und nun hinweg mit dir
Tölpel der du bist
möge die Spur
rasch verwehen
jede weitere Zeile
wäre zu viel selbst
der allerletzte Punkt
sei dir missgönnt
---
Tote Soldaten
Sie fanden sie fern und doch nahe beim ort.

Erinnerung ruhte neben der beklommenheit dort,
o erde, sie waren dein.
Und düfte lagen in den blumen dort
wie frauen in kleidern.
Wie frauen in verrosteten kleidern.

Und wieder ging ein regen nieder hinterm ort
und reichte den toten wasser durch die blumen

Jan Skácel, Deutsch von Reiner Kunze
Gedichtband "Fährgold für Charon"
---
Am Morgen des 24.2.2022 greift Putin die Ukraine an. Ich erhalte vom Verleger, Autor, Dichter Lojze Wieser aus Klagenfurt ein Mail mit der Bitte diese Zeilen ins Tschechische zu übersetzen. Alle Übersetzung sind auf dem Blog von Lojze Wieser nachzulesen.
Hier und Dort
Hier Sonne / Dort Bomben
Hier Frieden / Dort Tränen
Hier Zukunft? / Dort Graus!
Wohin gehen wir?
Tu in tam
Tu sonce / Tam bombe
Tu mir / Tam jok
Tu bodočnost? / Tam groza!
Kam gremo?
(c) Lojze Wieser, Slowenisch/Deutsch, 24.2.2022, um 7 Uhr)
Qui e là
Qui il sole / Là bombe
Qui pace / Là pianto
Qui il futuro? / Là orrore!
Dove stiamo andando?
(Italienisch Martina Kafol, Trieste)
Tu a tam
Tu Słónco / Tam bomby
Tu Měr / Tam Sylzy
Tu Přichod? / Tam Hrózba!
Dokal dźemy?
(Übersetzt in die obersorbische Sprache durch Milenka Rječcyna)
Hic et illic.
Hic sol / illic tela,
Hic pax / illic lacrimae,
Hic futurum? / illic miseria!
Quo eamus?
(Latein: Dr. Leo Tepper)
Hierzo en Daarzo
Zonlicht versus Bomzicht
Vreugd versus Verdriet
Morgen versus Eergisteren
Overzicht? - Overleven!
Welke weg waarheen?
(Vertaling in Algemeen Aanvaard Nederlands von Jos Rietveld ao)
Tady a tam
Tady slunce / Tam bomby
Zde mír / Tam slzy
Tady budoucnost? / Tam hrůza!
Kam jdeme?
(Tschechisch: Milena Findeis, Prag)
Here and There
Here sun / There bombs
Here peace / There tears
Here future? / There horror!
Where are we going?
(Englisch: Renate Milena Findeus)
აქ და იქ.
აქ მზე/იქ ბომბები
აქ მშვიდობა/ იქ ცრემლი,
აქ მომავალი? იქ ძრწოლა,
საით მივდივართ?
(Georgisch Diana Anthimiadou, Tbilissi, Tiflis)
Ovdje i tamo
Ovdje sunce / Tamo bombe
Ovdje mir / Tamo plač
Ovdje budućnost? / Tamo strava!
Kamo idemo?
(Kroatisch, Branko Čegec, Zagreb)
Tu i Tamo
Tu sunce, Tamo bombe
Tu mir, Tamo jad
Tu će biti sutra, tamo samo strah
Kamo ćemo mi?
(Bosnisch: Milenko Horanović. Sarajevo, Berlin)
Там і сям
Тут сонце / Там бомби
Мир тут / Сльози там
Тут майбутнє? / Жах там!
Куди ми йдемо?
(Ukrainisch: Alois Woldan, Wien)
---
Translated by Frank Williams Recited by John E. WordSlinger, Poetry Train
The station was, I think,
Kiev (Passenger).
We were sitting on suitcases, bags,
with a whole lot of others: families or singles.
Children were playing games on their mobiles,
the adults played grandmother's footsteps, hide and seek, tag.
The ticket booths were open,
the clerks ready and waiting,
their lipstick fresh.
I knew their names already:
Katerina, Hanna, Oksana Mikolaivna.
But nobody was buying,
They were waiting for news.
That would decide where they would book to:
if Kharkov was the target, then the Carpathians,
if Kherson, then Chernigov,
and if Kiev was bombed, well,
then it would be down into the caves and the catacombs,
the mole tunnels, the underground city of termites.